The election might be over, but the announcement today that the Queen's speech will be delayed while the Conservatives 'hammer out' a deal with the DUP has shown that  the British government is still far from being decided. It looks like the optimistically named 'Coalition of Chaos' might already be under threat, giving hope to the millions of people nationwide who questioned their outdated (actually just wrong…just plain wrong) policies, but now the British public face yet more uncertainty: will we be saved from the DUP? Will we have a new Prime Minister? Will we face YET ANOTHER ELECTION? Amidst all the confusion, us Brits must do what we do best…get the drinks in.
Here is our list of seven (sort of) political pubs to drown your post-election blues. Now, who's round is it?
Maggie's Bar – 329 Fulham Road, SW10 9QL
Eighties bars are Britain's guilty pleasures, usually the result of being half-pissed on a weeknight with nowhere better to go. Maggie's in Chelsea is named after Britain's first female prime minister (who was loved by some and loathed by the rest). Its political inspiration and fancy postcode might have you fooled, but inside is as delightfully tacky as any other themed bar, with a slightly jarring combination of Thatcher memorabilia alongside giant rubik's cube tables and Union Jack clad barstaff. It also plays Thatcher's famous speeches in the loo, should you need sobering up after one-too-many daiquiris.
The Intrepid Fox – 97-99 Wardour Street, Soho (original pub)
The Intrepid Fox has come and gone in two guises: the most recent on Old Giles Street was a grubby metal bar that one Guardian reader said 'smelt more like piss than piss'. Lovely. The original Fox was on the corner of Wardour Street in Soho, and aside from its more high-class rock & roll stature (this is where Mick Jagger persuaded Ronnie Wood to join The Stones) it actually had a fairly impressive political history too. It was originally named (200 odd years ago) after a radical Whig statesman, Charles James Fox, and offered free beer to anyone willing to vote for him in the 1784 election. Fox was an anti-slavery campaigner and supporter of the French revolution, and had the extrovert Duchess of Devonshire (look her up) canvassing for him in many pubs, including this one, where she became pretty famous. You can still see the façade of the original pub on Wardour Street – albeit now as a Byron…*eye-roll*
The Crown Tavern – 43 Clerkenwell Green, EC1R OEG
Once the spot where Lenin held his first meeting with Stalin (allegedly) in 1905, The Crown Tavern – then known as The Crown and Anchor – now hosts an array of craft beers rather than exiled Russian politicians. With a beer garden that spills out on to The Green, you can get merry with a view of the Marx Memorial Library – the spot where Lenin edited and published the journal ISKRA (or The Spark), a socialist newspaper that was smuggled in to Russia. Lenin's office has even been preserved and is open to visitors, should you fancy a taste of history after your pub lunch.
St Stephen's Tavern – 10 Bridge Street, SW1A 2JR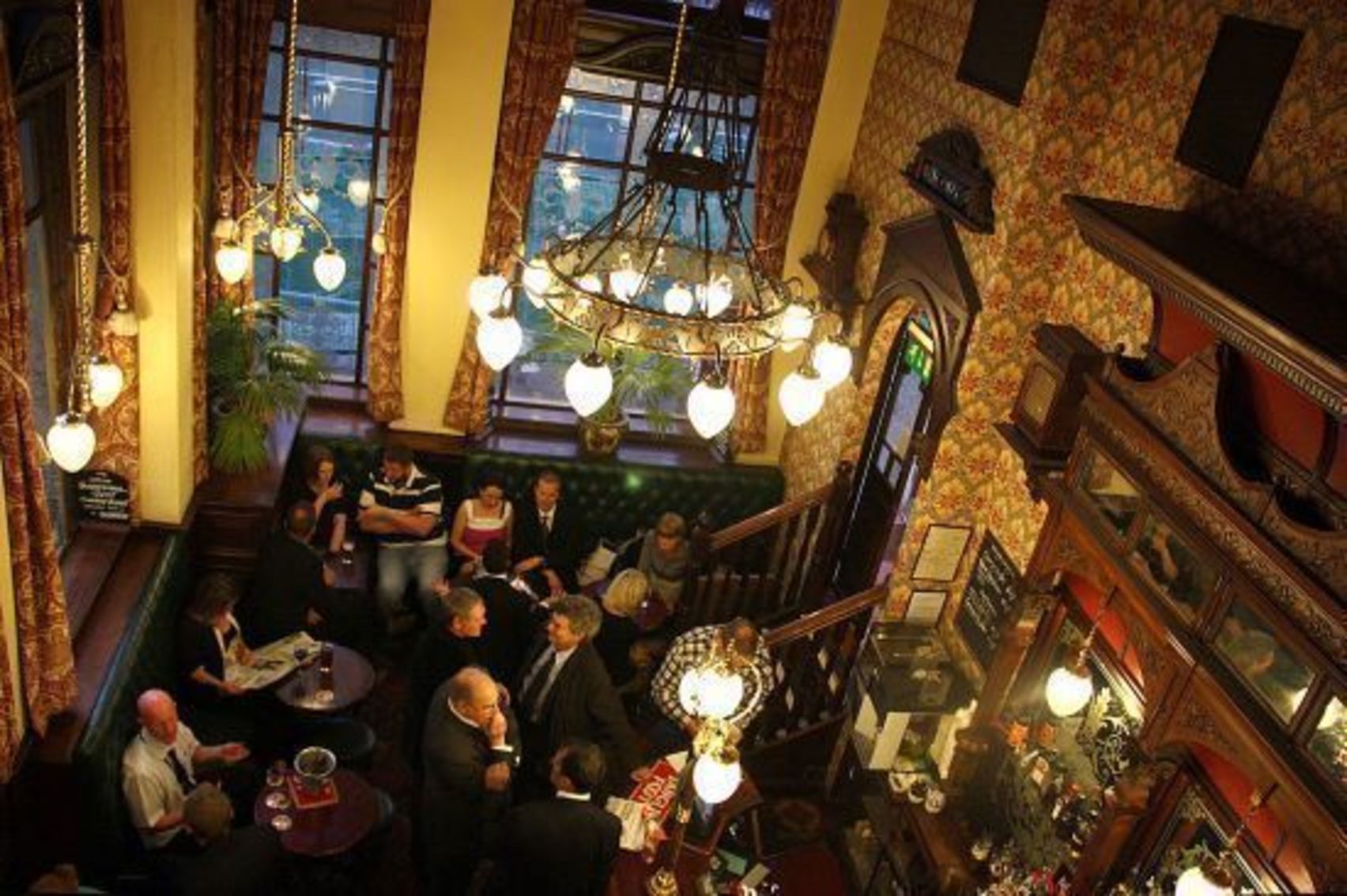 St Stephen's Tavern is literally the closest pub to Big Ben and is also in handily close proximity to the Westminster tube station – if you can summon enough energy to fight your way through throngs of photo-snapping tourists, that is. Although the Victorian tavern was renovated in 2012, it's retained a lot of its original features including a bell that historically signaled 8 minutes for MPs to stumble back to the chamber and cast their votes in parliamentary debates. The downside about this place is that you won't be going anywhere that thousands of tourists haven't been before you (everyone knows that the best part of being a Londoner is smugly avoiding tourist traps in favour of slightly more pretentious boozers), but the plus side is you'll probably be the only one able to correct journalists and tour guides from across the globe that refer to Big Ben as St Stephen's Tower – it is in fact the smaller tower above the main entrance. Win!
The Red Lion – 48 Parliament Street, SW1A 2NH
Right in the middle of 10 Downing Street and the Houses of Parliament, The Red Lion boasts itself as the 'best pub in the city for lovers of political history'. Standing on the same spot since 1434 when it was a medieval tavern called The Hopping House, it not only hosted Charles Dickens (who was fond of the landlady) but was also frequented by every Prime Minister of Britain until the 1970s. Despite a facelift in 2014 the main bar still exudes the opulence of a Victorian Gin Palace, and there's still a chance of rubbing shoulders with the political elite – or at least sitting in a spot once reserved for Winston Churchill. According to the pub's website, a lot of influential decisions have been made here – and we guess some hangover-inducing ones too.
The Old Swan Uppers – 3 The Pound, SL6 9QE
If you fancy venturing out of London; out past Slough and out even past the widest reaches of the tube lines *shudder* you'll end up in Theresa May territory. Cookham in Berkshire is part of Theresa May's Maidenhead constituency, and The Old Swan Uppers was one of two pubs (the other was The Crown) to revel in their local MP's success when she became Prime Minister last summer. Come What May (no, this is not a joke) was a 4.3% Draught IPA brewed especially by Heineken and was apparently a big hit with locals. Although it seems like May's brew was only limited edition, you can expect to pay 14 quid for fish 'n' chips in the Swan, meaning you won't feel like you're too far from London after all – and the pub's only half a mile from the Thames, should you need to orienteer yourself back home.
The Lexington – 96-98 Pentonville Road, N1 9JB
How could we complete the list without raising a glass to local lad Jeremy Corbyn? Corbz has been MP for Islington North since 1983 – in fact, Islington North has elected a Labour MP in every election since 1937 – and lives in Finsbury Park…so where better to go to drown our political sorrows? Ok, ok, so The Lexington isn't actually in Finsbury Park (or even within Jezza's constituency…ahem), but they did hold an election result all-nighter, so we're going to add them in for their sheer enthusiasm. They have a pretty decent selection of beers and a few cocktails, too – but since Jezza doesn't drink alcohol himself, you might have to make yours a spritzer.